As the end of indoor fireplace season is in close sight, sales can start to quiet down. Continue the momentum into the spring by expanding your product offerings to the outdoors. With more homeowners wanting to bring their entertaining and relaxing to their backyards, now is the time to take advantage of the trend. Check out these tips for a smooth transition to the outdoor space.
How to Start
While it may seem somewhat unknown, hearth dealers can sometimes be the most knowledgeable about outdoor products. With expertise in fireplaces, a gas fire pit table is an easy transition for a hearth sales team. Start with a reliable fire pit line that would work well for your customer base. Quite often, the same loyal customers will come back to buy their fire pit in the spring. When choosing a brand to display in store, select one with a more robust offering of styles with safety and reliability to back them up. Then choose furniture to compliment the fire table. Your sales rep can provide insight into popular products or pairings for your showroom. Don't be afraid to take advantage of their expertise!
Pro tip: select at least one fire pit table from each price point or range. A variety of fire pits in different price points appeal to different customers.
Think Spring Now
Once you select your outdoor living products to carry and display, start promoting them now. If you have the space, setup a few outdoor layouts to display now. The sooner you have fire tables on display, the sooner sales start up for them.
When customers come in for their indoor fireplace or service, mention a promotion or discount to come back for their fire pit in a few months. Keep up with any of the manufacturer's promotions throughout the year. The promotions can be an easy, risk-free way for your business to provide a great deal for customers.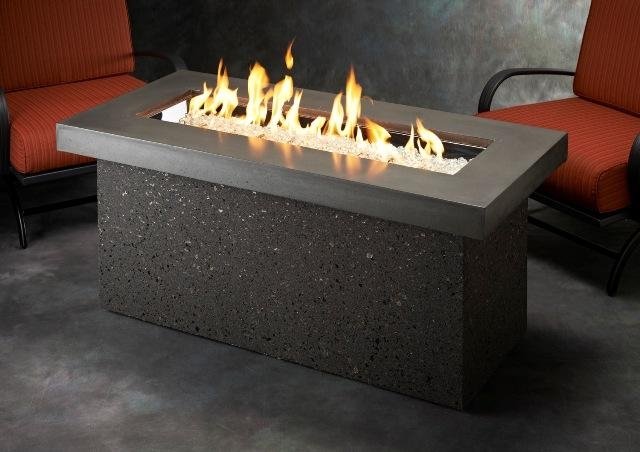 Simple display signage and ads can go a long way for promoting your expansive offerings. Depending on your region, the outdoor season can start pretty early as fire pits extend the season with their warmth and glow. Invite your sales rep into the store for sales training now so your showroom team is ready for the season. The more training they can receive, the more comfortable they'll be for successfully selling the products.
Before you know it, you'll be the go-to store for all things fire – indoors and out! Sign-up to learn how to become an OGC dealer.