Summertime is the best season to throw an outdoor party. Celebrating an anniversary, graduation, wedding, or 'just because' are all acceptable reasons to invite friends and family over for drinks and food. Below we've thrown together a few ideas to keep in mind if you're throwing a backyard bash.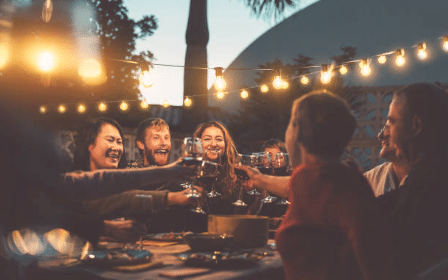 Pick a theme! Everyone loves a theme and the entire party can be planned around whatever the theme is. Choosing décor, food options, drinks, and even attire can be all dedicated to whatever theme you choose. A theme could be around a holiday like the 4th of July or could be something different like a wine tasting or sporting event.
Party favors and décor. If you're going with a theme, planning your décor and party favors can be fairly easy. If you're going with a wine-tasting theme, possible party favors could be small bottles of wine, a bottle opener, or a wine glass. Party planning shops will have plenty of décor to go with your theme or surf Pinterest for great party décor ideas.
Plan your menu and signature cocktail. Food can definitely fit around a theme. Are you having a backyard BBQ? Grilling out could be a great option. A baseball theme? Hot dogs and popcorn would fit the theme. Wine tasting party? Charcuterie boards are a must! Having a signature cocktail or mocktail can also be a great way to tie your beverages into the theme you choose.
Get your outdoor living area ready. Make sure your backyard is cleaned up and ready for people. Rake leaves, prep garden beds, clear pathways of debris and trim low-hanging branches. Make sure your deck or patio is clear of bugs and swept off. Hose down your patio furniture and make sure your cushions are cleaned. If you have an outdoor kitchen, grill or fire pit table make sure they are cleaned off and propane tanks are full and ready to go. Hanging string lights or lighting candles can also be a great ambiance addition.
Be prepared for weather. Make sure you have a backup plan in case it rains. Inside your home, a covered patio or a garage might be a good secondary space to host your party in case the weather doesn't cooperate.