Do I need a protective cover for my fire pit? If you are thinking about purchasing a gas fire pit table or you already own one, we highly recommend using a protective cover. A cover provides that extra protection for your investment and lengthens your fire table's life. But why do you need a protective cover for your propane or natural gas fire pit? We've compiled 3 reasons why we love our tan protective covers:
1. Durable Construction
Our fire pit protective covers are constructed out of strong polyester material. Polyester prevents ripping on the outside, while the velvety interior protects the finish surfaces and materials of the fire pit table. For extra protection, ripstop laminating prevents tears from forming in the first place. However if a rip were to start, the innovative interwoven design prevents the tear from growing any further. The unique combination of polyester and ripstop laminating provides that durability you can trust to protect your backyard investment.
2. Quality Design
As U.S. manufacturing experts, we focus on all of the details in order to lengthen the life of your fire pit. That's why we designed our fire table covers to offer one-way breathability. Our durable covers allow interior moisture to release while keeping water out. This delicate balance keeps your natural gas or propane fire pit looking clean and new.
Color is also a small detail that can prove to make a big difference for your protective cover. Our quality fire pit covers are available in tan. The tan color keeps the cover cool to the touch in the sun, unlike darker colors that absorb more heat. With a neutral color like tan, your gas fire pit cover won't take away from the aesthetics of your patio or deck either.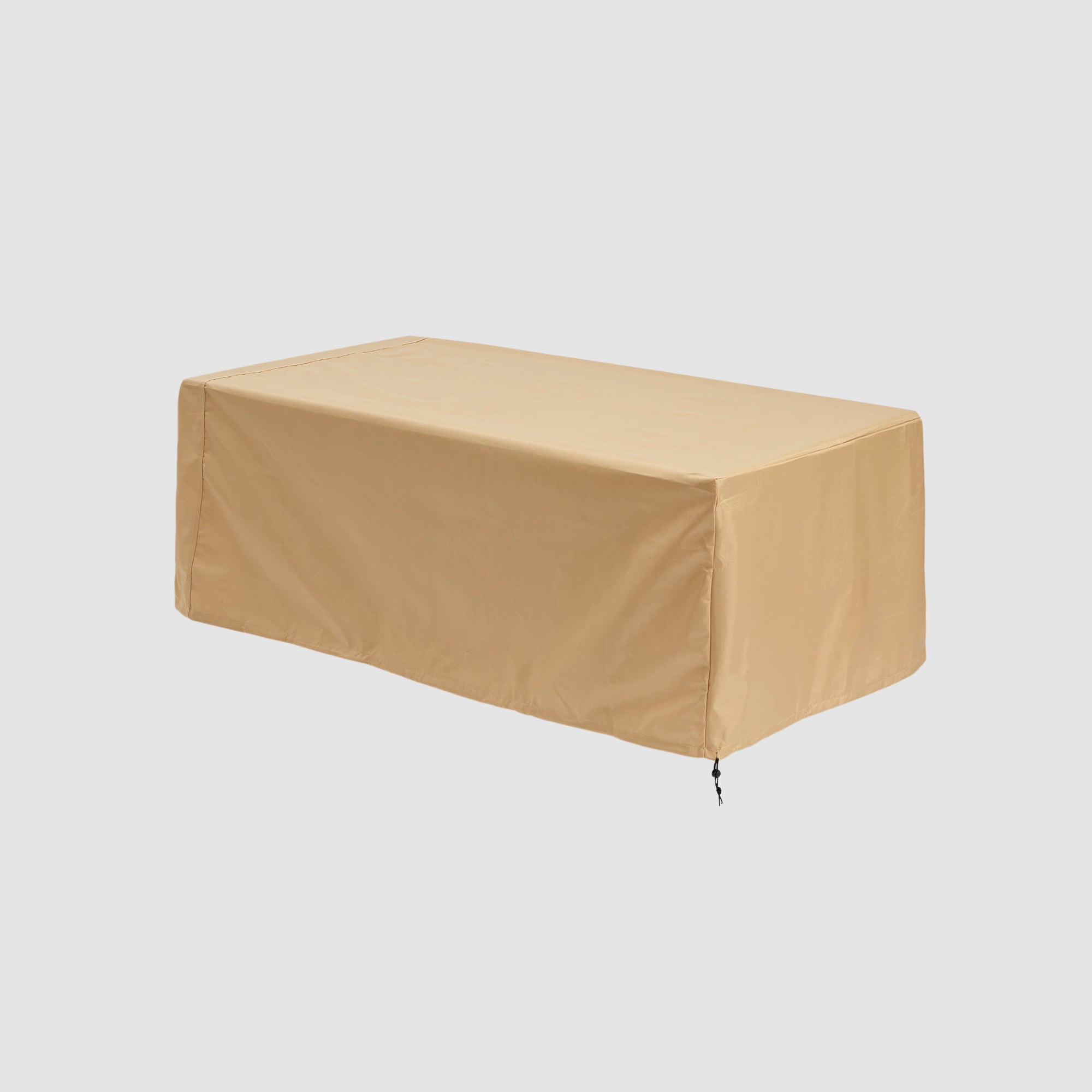 3. Maximum Resistance
Windy days are notorious for trying to take an outdoor cover or two. Our protective covers feature a draw string cord at the base in order to secure the cover to the gas fire pit. The extra security keeps you from searching for your cover after a windy afternoon.
Even when buying a protective cover for your fire pit, testing matters. Not only are our fire tables and Crystal Fire® burners UL Listed, but our protective covers pass AATC 169-2009 Resistance to Weathering testing standards. This testing method includes exposing the products to realistic weathering elements. By meeting testing standards, you can rest assured you're receiving a heavy-duty cover that'll protect your fire pit from the elements.
Ready to protect your investment? Your local dealer has you covered for the unpredictable weather ahead.