Looking for your outdoor space to stand out from the rest? The Outdoor GreatRoom Company has ready-to-finish fireplaces that will complement any backyard space. Read through our options below and find the perfect fireplace for your yard.
What is a ready-to-finish fireplace?
If you go the route of using liquid propane or natural gas when creating the perfect fire feature in your outdoor room, one option to look into is an outdoor fireplace. Instead of having your flame be the centerpiece of your outdoor living room, an outdoor gas fireplace serves as a wall, backdrop, and unique viewing area for all of your friends and family to gather around.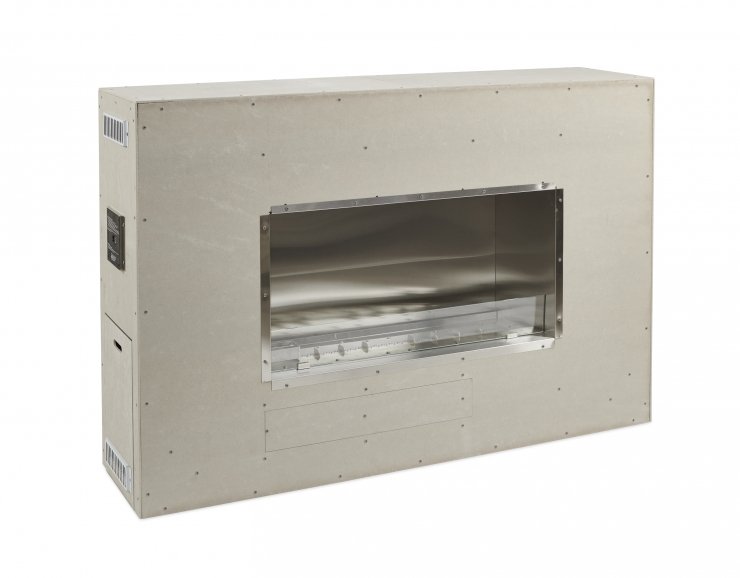 Outdoor fireplaces made by the OGC are created using a process designed to best fit the needs and landscape of your backyard or commercial outdoor sitting area. In order to withstand harsh temperatures and cold winters, each ready-to-finish (RTF) fireplace is put together using durable materials of G90 marine-grade galvanized steel framing and Hardieboard® cement. A beautiful, industry-leading Crystal Fire® Plus burner fits in the center of the fireplace frame to provide a fuller, more robust flame for warmth and visual appeal. The ability to simply place the same burner used in our popular gas fire tables into our ready-to-finish fireplace structures allows us to develop a consistent, flawless design each time a new fireplace is created.
Single-Sided vs. See-Through: What's the difference?
Another unique factor of OGC fireplaces is the option between a single-sided or see-through fireplace. The difference of between these two options ultimately depends on the needs and landscape of your backyard. If your patio or deck gives you an undesirable view of your neighbor's property, or you would like a little more privacy, a single-sided fire place could be a great fit for you. Besides offering an ambient collection of flames for friends and family to gather around, a single-sided fireplace can serve as a privacy wall between you and your neighbor. Using a single-sided fireplace is also a creative way to create more of an enclosure as you build the walls of your outdoor room.
A see-through ready-to-finish fireplace is the perfect option for someone looking to accent an already beautiful view. The benefit of a see-through fireplace is the frame it creates as you look through the view of your backyard landscape. Being able to see what's happening on the other side of an RTF fireplace is crucial when looking at the lake, country horizon or grandkids playing in the lawn.
The Finishing Touches
After you've made your decision on what fireplace will be best for your outdoor room, the final step is choosing the size and materials that will be incorporated into your see-through or single-sided fireplace. The wide variety of sizes available, ranging from 40-120 inches in length, allow for you to fill the needs of your backyard living area. Any kind of stone, brick, or non-combustible material can be used to finish the exterior of your one-of-a-kind fireplace. RTF fireplaces are made to be finished on-site to match your landscaping, hardscaping, or exterior design, making it the ultimate do-it-yourself experience.
"The RTF fireplace line is my new favorite product we are manufacturing," said David Shimek, Western US & Canada Sales Manager at OGC. "The opportunities are endless! It gives the customer the option to design the fireplace to their own liking, without having OGC build a custom unit for them."
As you begin mapping out your dream backyard, consider the many benefits of a ready-to-finish fireplace. From the unique creation process to our Crystal Fire® Plus burner technology, you can be assured that our line of made in the USA fireplaces are made to last for every memory you hope to create. Contact us to get started on your dream fire feature.