Entering into the new year means new opportunities to reimagine your outdoor room. While the modern, contemporary look seems to be here to stay, these three outdoor trends will surely hit your neighborhood and gain more traction as the year goes on.
Minimal Designs with Bold Color
Doing more with less will be a popular choice as homeowners spend additional time revamping their outdoor living area this year. Keep an eye out for a minimal approach to how people embrace their outdoor space. Implementing only a few outdoor accessories, such as a rug and a couple of plants, to support a more minimal design is one way to make the focal point of your backyard stand out.
One seamless complement to this soothing and aesthetic design approach is a more inviting color palette. Expect to see bold colors of ocean blue, timber brown, and mountain green incorporated into a simpler exterior covered in a creamy white or black ash color. The Cove Collection, whether it be a unique Cove gas fire pit bowl or Cove linear fire table, seems to fit this design trend the best. Explore the different colors that are offered to sweeten up the final components of your outdoor space.
Natural Materials with Relaxing Colors
People are approaching this year differently than in the past. Now's the time for a more freeing, refreshing approach to the way you exhibit your outdoor room. Investing additional effort into your living area supports a more intentional space that complements your house and surrounding natural view. More earthy materials, such as wood and stone, are taking the place of rigid, hard-lined framework and cheaper materials, such as plastic.
Staying in touch with nature by instituting fresh greenery and a relaxing color palette full of woodsy brown or majestic ivory creates an elemental feel to your backyard paradise. One gas fire pit that can be the focal point of this trend is the Denali Brew fire pit table. The unique pattern of the Everblend top, along with the natural, Mocha-stained wood frame of the table, gives this fire pit feature a truly one-of-a-kind personality for a natural and relaxing outdoor environment.
The Sierra Square gas fire pit is another classic option to an upcoming trend in outdoor living. The rustic, inviting look fits right in to any country landscape or cabin getaway.
Functionality at its Finest
Understanding the potential of a backyard experience is one thing all homeowners learned to appreciate last year as they spent more time within the perimeters of their home. You will surely see a trend in complete outdoor makeovers this year as people begin to value what can happen in the comfort in their own backyard. Having a functional, interactive living area is crucial to embracing what your backyard is capable of.
If you enjoy making new foods, or plan to as part of your New Year's resolution, why not take the cooking outside? Outdoor kitchens have become increasingly popular over the last few years, and 2021 will certainly contribute to its high demand. Invite over friends for a drink, cook brats and burgers on the grill, and house your Mom's homemade guacamole dip in the fridge all in one place. Contact us to learn more about our unique custom kitchen-building process to start building your ultimate outdoor experience.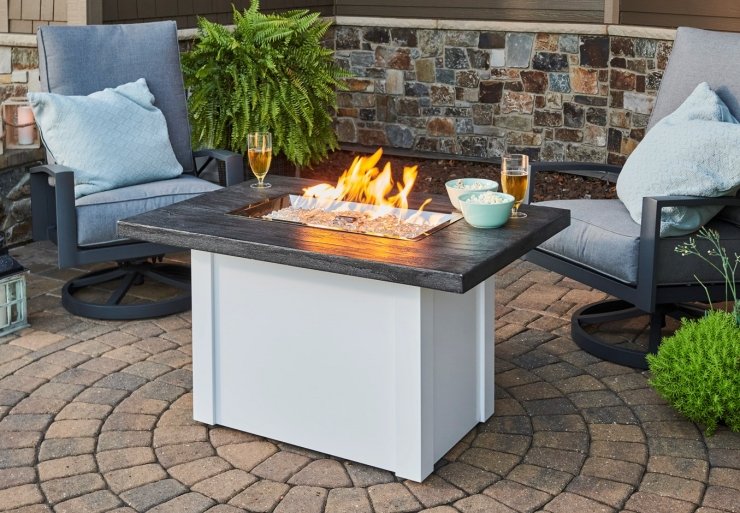 Exploring different ways to stay warm will be another functional priority for the 2021 year. Extend the nights you spend outside by using a stunning, seamless design of an outdoor fireplace. Devote the final dark hours of the day by surrounding around a beautiful, tall, and warm flame with family and friends. The many sizes and options to choose from, along with the ready-to-finish capability, allow for complete customization to fit whatever size outdoor space you have to work with.
We anticipate big things to happen within the outdoor living industry this year. Now is a great time to start brainstorming how you want your dream backyard to look. Follow us on social media for more updates on how we plan to match this years' upcoming trends within the outdoor living industry. For design inspiration, visit our Pinterest page!