Are you decorating your patio or redesigning your backyard spot? With so many outdoor pieces to choose from, our design experts have created their favorite inspirational spaces to help you get started. Bonus: our outdoor products are so stylish and versatile; they're perfect for mixing and matching to fit a variety of patio themes. Don't be afraid to experiment with your deck design!
Rustic Mountain Lodge
Picture yourself in your favorite cozy flannel, all comfy around a beautiful fire, with peace and quiet surrounding you. Now that we've got you hooked, transform your backyard into that cozy mountain lodge with a few outdoor statement pieces.
You'll first need a glowing fire that instantly starts and doesn't require constant maintenance during use (because continuously feeding and shifting logs is not a part of your relaxing getaway vision). We've got the perfect solution: The Sierra Linear Gas Fire Pit Table. The faux stone and Supercast™ top withstands the outdoor elements yet has the power to impress your guests.
Now that you have that picturesque fire, the comfy elements are a must for your deck spot. While we don't provide your favorite flannel shirt, we do have super comfy Tan Chat Chairs for that relaxing rocking motion you'll love. Plus, the deep seating design provides that "melt into your seat and forget any worries you have" feeling, which we all probably need more of in our lives.
But you can't have a mountain lodge without the true lodge vibes! Our Made in the USA Mocha Lodge II Wood Pergola Kit offers that grand feel, beautiful craftsmanship, and lasting durability for a triple threat. Add our Forest Green Metal Roof along with your own soft throw blanket and earthy-colored outdoor rug to keep the cozy outdoor feelings going.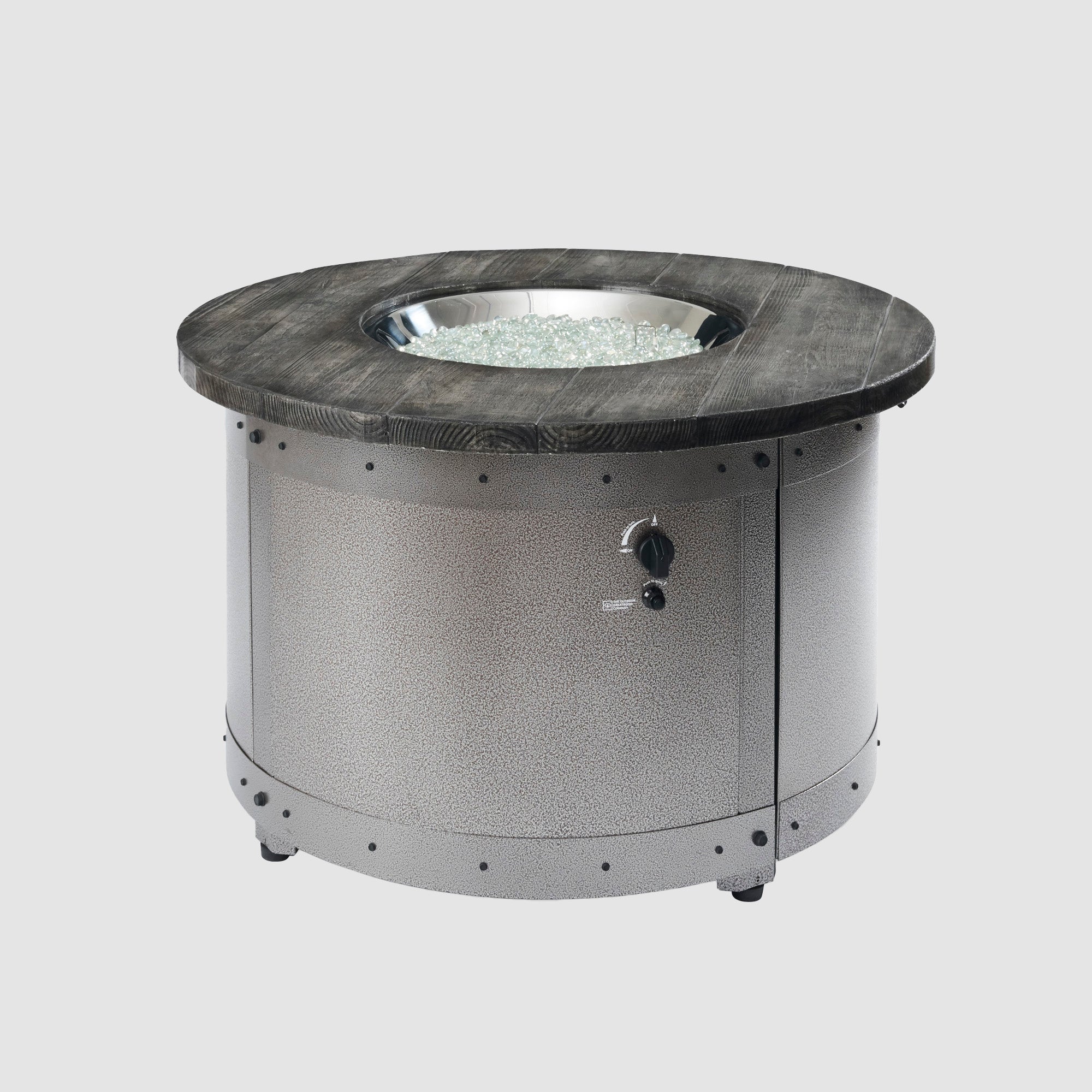 Industrial Accents
Are you more into urban inspired looks? We've got the perfect combination for your industrial dream spot. Every modern space needs a focal point, so let's start with the natural focus of this unique outdoor spot: the Edison Gas Fire Pit Table. The powder-coated steel base is paired with the Weathered Grey Barnwood Supercast™ top for optimal strength and style in your exterior room.
Already planning your backyard party or deck gathering? A matching burner cover is included for using your fire pit table as a functional table for easy outdoor entertaining. Add a Glass Wind Guard to keep wind, little hands, pets, and debris away from the fire during your celebrations. Plus, the reflection of the gorgeous flames on the glass is a stunning statement.
We've pulled in the same comfy Tan Chat Rocking Chairs into this industrial accents space to prove just how versatile this trendy patio furniture is for your ever-changing style. You could also pair it with the Highback Swivel Chairs for extra reinforcements of modern design with maximum comfort. Find some fun outdoor throw pillows to complete your yard space, and you may never want to head inside.
Craving more? We have many inspirational spaces ready for you to discover, recreate, and enjoy!