Getting Your Gas Fire Pit Ready for Winter
Winter is coming or in some cases like in the Twin Cities, it has already arrived. In most places that means spending more time inside and leaving deck time behind. There are many things that go into preparing your outdoor space for winter, but today we are focusing on how to get your gas fire pit cleaned and ready for winter storage. Here is a list of 8 helpful steps to ensure your gas fire pit table will last for years to come.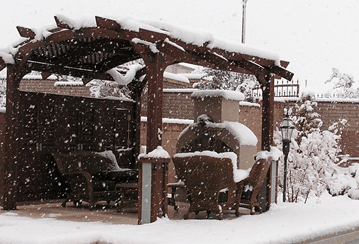 Remove any debris (leaves, dirt, etc.) from the burner
Close gas valve on fire pit base or shut off gas line for natural gas
Shut off and remove propane tank from base
Remove glass wind guard or any other accessories and store inside
Remove glass fire gems or fire media from burner – optional – can be done in winter or spring for cleaning
Cover Crystal Fire Burner Plus burner with burner cover
Wipe down fire pit top and burner
Cover gas fire pit table with vinyl cover
For additional information on getting your entire outdoor space ready for winter, take a look at this past article.